Suggestions from ecologists
01.06.2008
published by magazin "Safety of Environment" #1 2008 year
The Rosatom Public Council session which took place on 28th February was dedicated to the review of suggestions made by the non-governmental organisations regarding the concept of decommissioning of nuclear power units that have currently passed their operating lifetimes.

The environmentalists' position was presented by Oleg Bodrov, Head of the Emvironmental Charity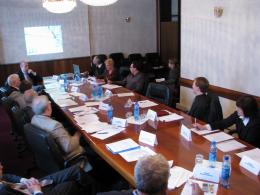 Organization "Zeleny Mir" (Green World) of' Sosnovy Bor and Lidia Popova, Director of the Nuclear Ecology and Energy Policy Centre of the Socio-ecological Union.
The document under review was authored by expens from non-governmental organizations of Russia, Norway and Lithuania. The suggestions are based on documents and materials obtained from the decommissioning of two RBMK-1500 units at Ignalina in Lithuania and five VVER-440 units at Nord in Germany. The analysis work performed in 2004-2007 supported by the Norwegian Society for Nature Preservation and the Government of Norway. As an illustration, a film was show about the decommissioning of Nord.
The authors believe that Russia may benefit from the Lithuanian and German decommissioning experience, as their stations were equipped with reactors similar to those of Leningrad and Kola NPPs. In addition, the environmentalists also suggested that laws immediately passed to regulate the management of radioactive waste and control the NPP decommissioning fund.
The members of the Public Council expressed their general support: to some of the suggestions. In particular, they supported the idea of creating regional "supervision councils " comprised of representatives of local and regional authorities, governmental and environmentalist organizations and trade unions that would monitor progress of the decommissioning work and inform the public accordingly.
The video materials that were shown were particularly noted for their thoroughness and correctness. "Such films can help significantly reduce the fear that the public may have regarding decommissioning operations ", said Mikhail Rylov, Director oil Interregional Expertise and Certification Science and Technology Centre for Nuclear and Radiation Safety (Saint-Petersburg).
In the spring of this year, environmental organizations plan on calling an international conference in Saint Petersburg attended by representatives of the municipal authorities of the "nuclear" towns of Russia' North - west, Germany and Lithuania. At that occasion, the environmental organizations will present their finalised suggestions for the performance of decommissioning activities, taking into account the discussions with the Rosatom Public council.