Another Blast of Furnace Occurs During melting of Radioactive Metal at "Ecomet-S". People are Injured. What's next?
01.11.2011
On Friday, October 7, between 17:00 and 18:00 an explosion occurred at the blast furnace ECOMET-S - a factory for melting radioactive scrap metal. This was reported by telephone to Green World by Natalya Malevannaya - head of the environmental management and security administration of Sosnovy Bor. A worker was burned by metal from the blast. He has second and third degree burns. He was taken to the Institute of Emergency Care named I.I Janelidze in St. Petersburg. There is hope that he will live.
Measurement by GREEN WORLD of the radiation background in Sosnovy Bor, 5 km east of EKOMET-C, indicated the amount to be in the normal range of about 20 mR / hr.
This is not the first time of an explosion at the plant. Previously, a similar explosion ended in the death of three young workers who received burns from molten metal. After that, none of the leaders ECOMET-S suffered any consequences. The chief engineer received only 3 years of probation, that is, one year for each lost life.
The sixteen-year history of ECOMET-S is full of many violations of Russian law and criminal events (see http://www.greenworld.org.ru/?q=_ecomet). At the same time, the plant not only continues to operate, but also has increased its production capacity and expanded the geographical scope of the source of its radioactive metal.
Today, St. Petersburg, thanks to ECOMET-S, has become a corridor for the delivery of radioactive metal from European Russia. More than 20 thousand tons of radioactive metal have already been melted.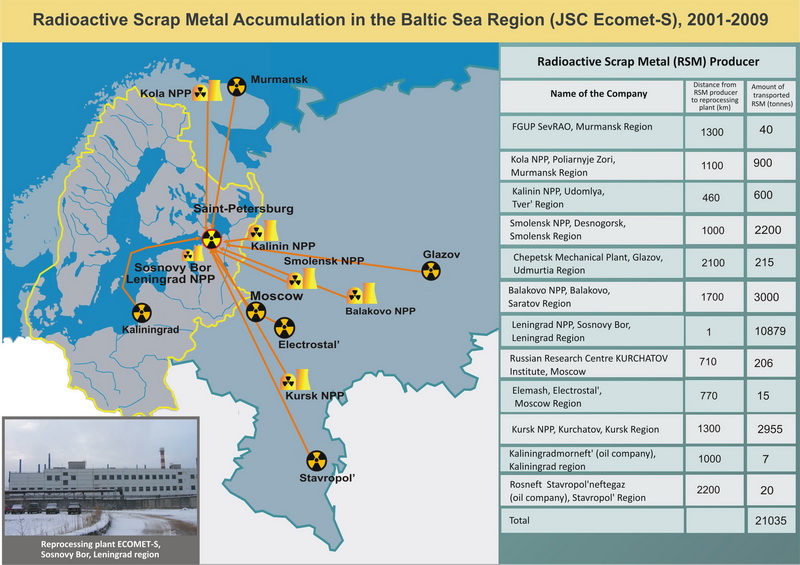 Negotiations have taken place with Germany, Lithuania and other countries concerning the import of radioactive metal. The planned construction by RosRAO of a regional graveyard for the burial of radioactive waste near the ECOMET-S and the certification of Ust-Luga port (50 km west of ECOMET-S) for working with radioactive materials may result in unique criminal opportunities for ECOMET-S at an Eurasian scale.