Russian citizens protest against turning their homeland into a nuclear dump
29.05.2008
BALTIC NEWSLETTER OF THE GREEN WORLD, № 101
Information periodical of the GREEN WORLD NGO, South Coast of the Gulf of Finland.
P.O. Box 93/7, Sosnovy Bor 188544, Leningrad Oblast,
Tel/fax:: +7 (81369) 72991; е-mail: bodrov@greenworld.org.ru, www.greenworld.org.ru www.decomatom.org.ru
On May 29 in the center of St. Petersburg, on the corner of Nevsky Prospect and Malaia Sadovaia streets, a protest demonstration was held by environmental NGOs Bellona (St. Petersburg), Ecodefense (Moscow) and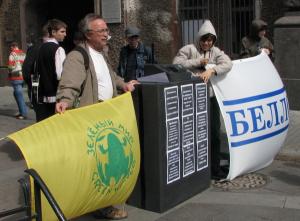 Green World (Sosnovy Bor – St. Petersburg). It was action against the rejected registration of an environmental impact assessment of new Leningrad Nuclear Power Plant -2 (LAES-2) and the arriving to St. Petersburg by way of the Baltic Sea of a shipment with French nuclear waste.
This is not the first portion of dangerous shipment to be delivered to Russia since the beginning of 2008.
In January and March 2000 tons of "uranium tailing" (depleted uranium hexafluoride) were transported to St. Petersburg from Germany by way of the Baltic Sea. In St. Petersburg, this shipment was transferred to train wagons and sent to Novoural'sk (Sverdlovsk Oblast), for processing and long-term storage.
In the middle of May a new waste portion - spent nuclear rods from the research nuclear reactor in Salaspils (Latvia) was transported to the RT-1 plant in the city of Ozersk, Chelyabinsk Oblast, for reprocessing and long-term storage. In order that Latvia become a non-nuclear country, the USA and Latvia paid Rosatom 6.75 million USD.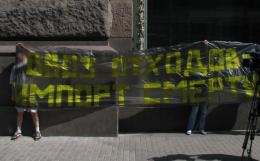 On May 30 at 18.00, the ship "Captain Lus" from Le Havre (France) docked in St. Petersburg. It was carrying a new shipment of French nuclear wastes.
The public of Russia believes that the transference of nuclear and radioactive waste is transference of problems and not a way to solve them!
WHY ARE RUSSIAN CITIZENS AGAINST THE IMPORT OF DANGEROUS WASTES?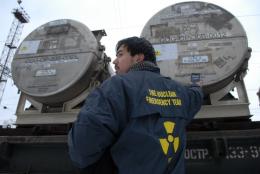 In Germany, France, England and the United States of America there are documented risks to the health of nature and people who live near nuclear sites. In particular, published and verified data show that children in Germany who live within 5 km from nuclear power plants have a more than two times higher incidence of leukemia.
In Russia a transparent complex of environmental monitoring in the vicinity with nuclear sites does not exist. This creates the illusion of well-being.
The life expectancy of people in those countries from where nuclear wastes are delivered to Russia is significantly higher than in Russia.
As a result, the transport to Russia for processing and storage of uranium and other wastes from Europe is a short-sighted policy that injures the well-being of the nation.
This is a serious political mistake of the Russian authorities who have taken this decision.
This is a blow to the well-being not only of today's and future generations of Russia.
On 30 May 2008, representatives of the Russian public held a solitary demonstration in front of the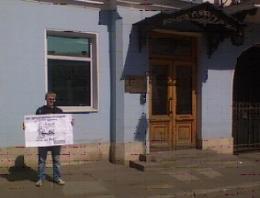 General Consulate of France in St. Petersburg. During the demonstration, environmentalists delivered a Petition to France's Prime Minister François Fillon and Jean-Louis Borloo, France's Minister of Ecology, Energy, Sustainable Development and Territorial Development to the Consul General.
The Petition signed by the NGOs Bellona (St. Petersburg), Ecodefense (Moscow) and Green World (Sosnovy Bor – St. Petersburg) says the following: "In accord with international principles, each country is responsible for waste produces on its territory. We demand that the Republic of France respect this principle and cease import of dangerous radioactive and toxic waste to Russia without waiting for any possible catastrophes during transport and storage of French depleted uranium hexafluoride, and to revoke the licenses allowing the formulations of contracts for export and transport of French depleted hexafluoride to Russia that have been given to the company EURODIF…"
Oleg Bodrov,
Green World Chairman
Phone/fax: +7 81369 72991
THE ISSUE WAS PREPARED BY
Oleg Bodrov, with the support of Nathaniel Trumbull and Rashid Alimov
Sharing of our information is encouraged.
When publishing please refer to our periodical.